Learning French!
Ah oui ... Francais. Learning French is step one to achieve the ranks of the cultural elite. You've chosen to learn one of the great languages of the world. Cuisine, fashion, art and world diplomacy still owe a debt of gratitude to the French language. Although it may have lost some of its influence in the world over the last centuries, it has certainly lost none of its uniqueness or charm. French is still one of the most popular second languages and is truly a world language. Read my review of French!

French is a relatively difficult language to pronounce correctly. It has several letters and subtle vowels that pose some difficulty for a native English speaker, but nothing that can't be overcome with a little work. In addition, native speakers of French are notably particular about how their language is spoken. They don't take kindly to poorly spoken French, and in their defence, any non-native speaker who has learned the language (myself included) agree that poorly spoken French is painful to hear.
Furthermore, written French is often far removed from how it is pronounced. Much like English, it can be very illogical and frustrating to the learner with its apparent complexities. Fear not, however. This too shall be overcome. In fact, I believe these particularities are largely what make French such an interesting and highly regarded language. As Barry Farber says, "you will be judged in the world by your French ... you will not be regarded as a person of language accomplishment if your French is poor." If that is true then only the best methods will suffice for learning French. Herein lie the challenges before us, so with that in mind, let's take a look at some methods that will help us acquire this subtle and rich language.


Internet/Free - Easily the single best source to learn French online is at About.com. It has lessons from the very beginning, right on through to intermediate and advanced. Grammar, verb conjugations and how to use them, pronunciation guides with audio examples, idioms, cultural material and load of links to other sources. There is even an e-mail course to get you started. About.com employs guides who provide qualified oversight of the material for each topic. It's like having your very own French tutor. This is a fantastic resource that can supplement your chosen method, or if you can't spend any money, with a little extra hard work this site can provide most of your learning needs. I think it is better than many methods that you will find for sale in stores for learning French.

Transparent Language offers a free introductory program to learn French vocabulary. Get your Free BYKI™ Lite download by Transparent Language

Internet/Free - FSI Language Courses.org
The FSI courses are among the most comprehensive ever made. But they are old, out-of-date, and expensive where they are still sold. You can get them for free at FSI-Language-Courses.org There are several courses with text and audio. Considering that it is free and legal, it really is an incredible resource.

For more free resources for learning French go to French Language Resources


Book/Audio combo
Living Language French Basic Complete
The Living Language series, published by Random House, brings to life a well thought-out program in a compact package, by using a 'building block' approach to learning French. The Basic Complete set includes a 40 lesson coursebook, which doubles as a phrasebook because it has lots of variations of the most common or useful phrases, a dictionary with plenty of idioms and expressions, and 4 audio cd's. It's an excellent, more-bang-for-the-buck deal. Lots of value for the beginner. Overall, a fine and inexpensive method for learning French.


Read my review on Amazon -
Complete French Basics
Audio Only
Pimsleur Comprehensive French
Because French pronunciation is so important, I think Pimsleur's Comprehensive course is especially good for learning French. Pimsleur's courses are all conversation, and I think they spend a little extra time to encourage proper pronunciation in the French program. Pimsleur is the king of all-audio programs. The only drawback to Pimsleur is that there is only a little bit of reading practice. There is a reading booklet and cd in each level, but because the written word and spoken word can vary considerably in French, I think some kind of supplemental reading material is needed, even more than in some other languages. I'd still choose Pimsleur Comprehensive over all other audio methods, it's simply the best. Read my more in-depth review of Pimsleur products  or pimsleur reviews from other visitors.
As an alternative to ordering the whole set of Pimsleur cd's in one shot, maybe you would be interested in a more cost effective download from Audible.com? Get five lessons at a time for less money and no waiting! French Phase 1, Unit 01-05: Learn to Speak and Understand French with Pimsleur Language Programs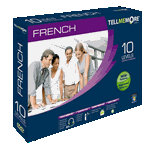 Software
Tell Me More French

Language learning software is growing in popularity everyday. As long as you don't mind spending even more time in front of the computer, then software presents some great opportunities to learn French. There are lots of software solutions for French, but the best language program, I think, is Tell Me More. It is well-designed and very comprehensive, more so than any other language program.
It's just the right mix of useful content, activities and games, dialogues, native speaker audio, video, 2000 hours of studying, 10,000 exercises ... the list goes on. It's a sophisticated and great-looking language program. The best part of Tell Me More French is the amount of content for intermediate and advanced learners, which is so hard to find. Tell Me More was already the most complete and comprehensive language program made, but it has been recently improved and upgraded again. I highly recommend you go to their website and see the demo. This is an excellent method for learning French for the serious student! Read my complete review of Tell Me More or visit their website to see the online demo - TELL ME MORE Language Learning Software

Resources and Links for Learning FrenchA list of some French language resources and links to help you on your way to learning French, or learn more about French culture and history. And don't forget to check the General Resources page, where you can find links for finding language penpals, live chats and forums for practicing French, and lots of other helpful sites!


"You get the feeling that many of my guests feel that the French language gives them entry into a more cultivated, more intelligent world, more highly civilised too, with rules."

- Bernard Pivot


Language Learning Advisor Home Page