Learning Japanese!
 Learning Japanese leads us into an intriguing and exotic world. This language, while unlike anything native English speakers are used to, is not as difficult as many report it to be.
It has some subtle sounds that require some care and a unique system of respect levels or 'honorifics' which can be very complicated. Japanese also has a complicated writing system.
But there may be ways to work around these more difficult issues and put them off until you are ready. For example, it may be necessary to concentrate on the spoken form of the languge first to immerse yourself in the exotic nature of Japanese, before tackling its unusual form of writing.
Opinions vary on just how difficult Japanese is to learn. It appears on both the Hardest Language to Learn Survey and the Easiest Language to Learn Survey. Learning Japanese can be a uniquely subjective experience.
Let's take a look at some of the best methods to learn Japanese.

Internet/Free Certainly one of the best free online sources for learning Japanese is at About.com.  It has lessons for beginners, grammar, verb conjugations and how to use them, pronunciation guides with audio examples, idioms, cultural material and load of links to other sources. About.com employs guides, professional teachers, who provide qualified oversight of the material for each topic. It's like having your own Japanese tutor. This is an excellent resource that can supplement your chosen method, or if you can't spend any money, with a little extra hard work this site can provide most of your beginning needs in learning Japanese.

Internet/Free Transparent Language offers a free vocabulary trainer to get started learning Japanese. Get your Free BYKI™ Lite download by Transparent Language

Book/Audio Combo
Living Language Japanese Basic Complete
The Living Language series, published by Random House, brings to life a well thought-out program in a compact package, by using a 'building block' approach to learn Japanese. The Basic Complete set includes a 40 lesson coursebook, which doubles as a phrasebook because it has lots of variations of the most common or useful phrases, a dictionary with plenty of idioms and expressions, and 2 audio cd's. It's an excellent, more-bang-for-the-buck deal. A great no-frills way to study Japanese.

Book/Audio Combo
Living Language Ultimate
This is a notch up from the Basic Complete set, it includes a 400+ page coursebook, 4 cd's that are coordinated with the book and an additional 4 cd's to work with away from the book. This is a great combination of the old school approach with the big coursebook for the serious student, but the extra cd's are a great addition. An ideal choice to learn Japanese.

Audio Only
Pimsleur Comprehensive Japanese
As far as ease of use and quality of the material and method, Pimsleur is the best. You will learn to speak Japanese in a natural and comfortable way. It's the same for all Pimsleur language programs, but some require extra effort when it comes to reading. Japanese is clearly such a case. Pimsleur provides a reading booklet and cd for each level of the Comprehensive program, but their focus is clearly on speaking skills, and this is where they shine. Because Japanese uses such a radically different writing system from English, extra effort must be given to studying written Japanese, if you want to, and additional materials will be needed. The Pimsleur Comprehensive course is my favorite method and is my first choice for learning Japanese, even with that one caveat. Read my more in-depth review of Pimsleur.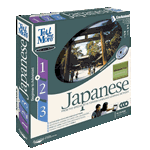 Software
Tell Me More Japanese
This is my new favorite language learning software! It's just the right mix of useful content, activities and games, dialogues, native speaker audio, video and more. It's a sophisticated and great-looking language program. The best part of Tell Me More Japanese is the amount of content for intermediate and advanced learners. It may be the most complete and comprehensive language program yet made. Read my review of Tell Me More for more information. Also, I highly recommend you go to their website and see the online demo. This is an excellent method for learning Japanese. TELL ME MORE Japanese Language Learning Software


Resources for Learning Japanese - here is a short list of links and resources you can use to supplement and advance your study of Japanese. Also, look for penpals, chats and forums, and other helpful resources and links on the General Resources page.

Language Learning Advisor Home
"Language is the blood of the soul into which thoughts run and out of which they grow"
- Oliver Wendell Holmes