Learning Arabic!
Learning Arabic can be challenging. This language, considered exotic by most westerners, has a number of sounds not familiar to native speakers of English, and its vocabulary is mostly unrecognizable. In addition, there are a number of different dialects spoken throughout the world, although Egyptian Arabic is the dialect that is most widely understood. There is also a unique writing system which is written right to left like its cousin Semitic language, Hebrew. The written form of Arabic is relatively consistent throughout the Arabic speaking world, and like Chinese or Japanese, this writing is considered more than just a form of communication, it is an art form. For anyone learning Arabic, these challenges are worth facing, as Arabic is a language steeped in culture with a long written history. Here are some of the options for learning Arabic.
Internet/Free
Transparent Language offers a free vocabulary trainer to get started learning Arabic. Get your
Free BYKI™ Lite download by Transparent Language
Book/Audio Combo
Living Language Arabic Basic Complete
The Living Language series, published by Random House, brings to life a well thought-out program in a compact package, and at an affordable price, by using a 'building block' approach to learning Arabic. The Basic Complete set includes a 40 lesson coursebook which doubles as a phrasebook because it has lots of variations of the most common or useful phrases. There is also a dictionary with plenty of idioms and expressions, and 3 audio cd's. You won't find another set of language learning tools with better value. It's an excellent, more-bang-for-the-buck deal.
Book/Audio Combo
Ultimate Arabic Beginner-Intermediate
This is a notch up from the Basic Complete set, it includes a 400+ page coursebook, 4 cd's that are coordinated with the book and an additional 4 cd's to work with away from the book. There is also an Advanced Ultimate to continue to study Arabic when you have mastered this course.
Book/Audio Combo
PDQ Arabic
This method from Transparent Language is a good way to get started learning Arabic. There are four audio cds and a 64 page workbook with transcriptions of the audio and exercises to work further. The audio, spoken in Egyptian Arabic, is based around dialogue and real-life conversation, the best way to prepare yourself for using a language.
Audio Only
Pimsleur Comprehensive Arabic (Eastern)
As far as ease of use and quality of the material and method, Pimsleur is the best. You learn to speak Arabic in a natural and comfortable way. The Pimsleur focus is clearly on speaking skills and this is where they shine. It's the same for all Pimsleur language programs, but Arabic with its different alphabet and writing system requires extra effort when it comes to reading and writing. In order to fully study Arabic, additional materials will be needed to improve reading skills and to advance in the language. Note that there are separate courses for Eastern Arabic (which has a level 1 and 2) and Egyptian Arabic (which has only level 1). Read my more in-depth
Review of Pimsleur Products.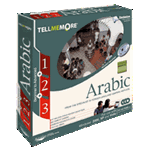 Software
Tell Me More Arabic
This is my new favorite language learning program! It's just the right mix of useful content, activities and games, dialogues, native speaker audio, video and more. It's a sophisticated and great-looking language program. The best part of Tell Me More Arabic is the amount of content for intermediate and advanced learners. It may be the most complete and comprehensive language program yet made and is an excellent method for learning Arabic. Read my review of Tell Me More or, for more information, I highly recommend you go to thier website and see the online demo.



Here are some language resources for learning Arabic for you to begin to study Arabic or learn about Arabic culture. Also, check the Language Resources page for lots of other resources to help you learn Arabic or any other language. Search for penpals, live chats, language exchanges and other resources.



Language Learning Advisor Home


"Language is a city to the building of which every human being
brought a stone."
- Ralph Waldo Emerson