Learning Italian!
 In learning Italian you have chosen to learn what is widely believed to be the most beautiful language in the world. Culture, music, art, cuisine - the sights, sounds and scents of the cream of life are all encapsulated in the extraordinary Italian language. Relatively easy to pronounce and read for the native English speaker, Italian is an excellent second or third language choice for anyone. Let's see the best available products to learn the beautiful Italian language.

Internet/Free Certainly one of the best online sources for learning Italian is at About.com. It has lessons for beginners, notes on grammar, verb conjugations and how to use them, pronunciation guides with audio examples, idioms, cultural material and load of links to other sources. About.com employs guides, professional teachers, who provide qualified oversight of the material for each topic. It's like having your own Italian tutor. This is an excellent resource that can supplement your chosen method, or if you can't spend any money, with a little extra hard work and a few additional resources this site can provide most of your needs to learn Italian online.

Transparent Language offers a free vocabulary trainer to get started learning Italian. Get your Free BYKI™ Lite download by Transparent Language

Book/Audio combo
Living Language Italian Basic Complete
The Living Language series, published by Random House, brings to life a well thought-out program in a compact package, and at an affordable price, by using a 'building block' approach to learning Italian. The Basic Complete set includes a 40 lesson coursebook which doubles as a phrasebook because it has lots of variations of the most common or useful phrases. There is also a dictionary with plenty of idioms and expressions, and 3 audio cd's. You won't find another set of language learning tools with better value. It's an excellent, more-bang-for-the-buck deal.


Book/Audio Combo
Living Language Ultimate

This is a notch up from the Basic Complete set, it includes a 400+ page coursebook, 4 cd's that are coordinated with the book and an additional 4 cd's to work with away from the book. There is also an Advanced Ultimate to continue to study Italian when you have mastered this course.


Audio Only
Pimsleur Italian Comprehensive
Learning Italian couldn't be easier with Pimsleur. Their all-audio approach makes it easy to engage Italian speakers in conversation. The naturally talkative Italians themselves appreciate with passion a foreigner speaking their language, and with Pimsleur Italian you will speak well and with excellent pronunciation. The only drawback to Pimsleur is that there is only a little bit of reading practice. There is a reading booklet and cd in each level, but some kind of supplemental reading material is needed. I'd still choose Pimsleur Comprehensive over all other methods, it's simply the best. Read my review of Pimsleur products or visitor reviews of Pimsleur.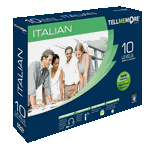 Software
Tell Me More Italian
This is my new favorite language learning software! It's just the right mix of useful content, activities and games, dialogues, native speaker audio, video and more. With 2000 hours of studying and 10,000 exercises, you won't find a program with more content. It's a sophisticated and great-looking language program. The best part of Tell Me More Italian is the amount of content for intermediate and advanced learners. It may be the most complete and comprehensive language program yet made, and it has just been updated and improved again. Read my complete review of Tell Me More or go to their website and view the online demo for yourself. This is an excellent method for learning Italian for the serious student! TELL ME MORE Language Learning Software



Resources for learning Italian. Here are some links to a few excellent sites that have loads of resources for learning Italian. Also, don't forget to look for more helpful resources and links on the general language resources page.



Language Learning Advisor Home


"They spell it Vinci and pronounce it 'Vinchy': foreigners always spell better than they pronounce"
- Mark Twain