Learn Spanish!
Learn Spanish - one of the most exciting and useful languages in the world! With its easy pronunciation, familiar vocabulary, and rich culture, native English speakers will find Spanish to be an enriching addition to their lives. There are an abundance of materials for the Spanish student, both commercial products and free resources, especially on the internet. And, there are tons of opportunities to use Spanish once you learn it.
Why Spanish?
You probably already have a reason to learn it, but just in case you needed a little convincing ...

Is Spanish Hard to Learn?
This is one of the most common questions about learning Spanish. Everyone is different, of course, but I've done a little research on this question.

How to Learn Spanish
There are a hundred paths to learning a language, so I can just give you a starting point. Once you get going though, you'll find your own way!

Recommendations
Here are some of my favorite commercial products for Spanish. You don't have to use these, of course, but this will help give you an idea of what's out there.

Links
Some links to help you learn more effectively, use free resources, and put all this information together!

Visitor Comments on Spanish
Share some of your thoughts and ideas on Spanish!


Why Learn Spanish?
There are reasons why learning any language can be a tremendous benefit, you can read some of them here. All of them apply to learning Spanish, but you're looking for specific reasons why you should learn Spanish and not just any language, right?

Spanish is truly a global language. It is one of the six official languages of the United Nations. It is the fourth most commonly spoken language in the world, after only Mandarin, Hindi and English. Spanish has global recognition. It is a popular third or fourth language in Europe, and is spoken in pockets in Africa and Asia.


Spanish dominates the western hemisphere. English may be the de facto international language, but in South America, Central America and the Caribbean, Spanish is unequalled. Even in the US, Spanish is the second most spoken language. In fact, the US has one of the largest Spanish speaking populations in the world.

The culture associated with the Spanish language is world renowned. From Flamenco to the Tango, from Goya to Don Quixote. The music, dance, art and literature are woven into the fabric of western civilization. I didn't mention the cuisine? From tacos to paella to flan, the Spanish language just drips with the flavors of Spanish culture from Spain to the Americas.

The opportunities to learn Spanish are greater than for any language other than English. French used to be the most popular second language in the US. Not anymore. The shelves of bookstores and the internet abound with methods to learn Spanish in every way imaginable. The opportunities to use Spanish in work and travel are almost everywhere, and new markets and new possibilities are on the horizon.


Is it Hard to Learn Spanish?
Well, learning any language is a very subjective experience. It depends a lot on your personal history and experience. But, according to the majority of people in this survey, Spanish is the easiest language to learn if your native language is English, and one of the easiest even if your native language is not English. Now, everyone has a different point of view, and it's not a very scientific survey, but the opinions of more than 1000 language learners have to be meaningful.

Remember, any language has parts that will be difficult, and you absolutely have to put lots of effort into learning Spanish, it won't just 'come to you.' But knowing that lots of other people from lots of different backgrounds and learning experiences have found Spanish to be easier than other languages should be encouraging to you. Read my review of Spanish and reviews from other visitors to this site.



How to Learn Spanish
You'll need some kind of core program to follow, either a class, online tutorial or language method. I highly recommend that you do some research before you invest a large amount of money in an expensive class or language method. Be sure that you know what you're getting and how it works. Try demos and read lots of reviews. But also remember this - the method is not nearly as important as how much work you put into it! A very inexpensive method can be just as useful or successful for you if you use it right. And remember, we'll be adding complementary resources to that method.

You may not even be sure of what exactly you are looking for yet. That's fine. And if you are so eager that you want to get started now then just pick something (especially something cheap or even free) and just get started. You will know quickly whether you like it or not, and you will soon figure out exactly what kind of features you're looking for in a language course. Then do some more research and find something that suits you better or fits your learning style or learning goals. Just try to enjoy yourself. If you are having fun, then it will be easy to maintain your motivation.

First, go to the How to Learn Languages page where you can get an overview of learning languages: what kinds of skills you need to brush up on, how to use some of the methods and tools you'll be using, what kinds of resources to use, how to set goals etc.

Next, go on to the Language Learning Methods page. This will help give you an idea of what kinds of language courses are available out there, and what kinds of learning tools you might like.

Also, check out the Language Learning Tips page where you will find plenty of ideas to inspire some creative learning. The language method you choose is just the beginning. Here you will find different kinds of supplemental materials to expand on and actually use what you are learning.

Now its time to get down to it. Get your method, get some additional materials, set your goals, make your lesson plan and then - just go and learn Spanish!


Recommended Products to Learn Spanish
These are my top recommendations for commercial products to learn Spanish. They are all from publishers with great reputations that have been around for a long time. These are what I would call 'tried and true' comprehensive methods to learn Spanish.


Living Language Spanish
The book and audio combo is still one of the most common ways to learn a language, and it's the one I am most comfortable with. One of the first language courses I ever bought was Living Language Basic Spanish and it turns out to be one of the best value language products you can buy.

The full set comes with the coursebook, a dictionary and three audio cd's. You can buy just the coursebook, but the full package is so useful that it's worth the few extra dollars. It's inexpensive, practical, easy to use and easy to find. Living Language also makes an upgraded version of this course called Ultimate, which comes in Beginner to Advanced courses. Read my review of Living Language Spanish.

Pimsleur Spanish Comprehensive
The all-audio course can be great for the right person. I bought the Pimsleur Spanish Comprehensive courses because I spent a lot of time driving in the car and I wanted to make that time more productive. Pimsleur was just perfect for that. I used all three levels and I still get compliments on my Spanish pronunciation and I owe it all to Pimsleur.

Read my review of Pimsleur Comprehensive courses.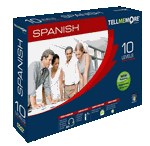 Tell Me More Spanish
Language learning software is growing in popularity everyday. If you don't mind spending more time in front of the computer, then it presents a great opportunity to learn Spanish. There are lots of software solutions for Spanish, but the best language program, I think, is Tell Me More. It is well-designed and very comprehensive, more so than any other language program.

It's just the right mix of useful content, activities and games, dialogues, native speaker audio, video, 2000 hours of studying, 10,000 exercises ... the list goes on. It's a sophisticated and great-looking language program. The best part of Tell Me More Spanish is the amount of content for intermediate and advanced learners which is so hard to find. Tell Me More was already the most complete and comprehensive language program yet made, but it has been recently improved and upgraded again. I highly recommend you go to their website and sign up to see the demo. This is an excellent method for learning Spanish for the serious student!

TELL ME MORE Spanish Language Software


Just a few notes on Tell Me More Spanish :

The program uses Castilian Spanish, that is, the Spanish spoken in Spain. I would prefer Latin American Spanish, but I haven't heard of anyone having difficulties by learning one dialect or the other. In fact, no matter how you learn your Spanish there will always be a little adaptation when encountering new people because there are so many different dialects of Spanish. The more Spanish I understand, the more I realize this. At first I thought it was just me, but then I began to notice how native speakers from very different regions have to adapt to each others dialects, it's very interesting! So, I wouldn't worry about which dialect you are learning unless you absolutely have to learn one or another.

Also, I recommend the 10 Level version of Tell Me More because you simply get the best value out of it. They also offer 2 Level and 5 Level options which are more affordable and can be tailored to your personal skill level. And, they are upgradeable to unlock more levels later on if you choose to do so.

Read my complete review of Tell Me More.

Links
Looking for some free alternatives? Free?! Yes, there are tons of free alternatives for learning Spanish!

When you have a method or two, and you have already started to learn Spanish, here are some articles, recommendations, tips, ideas and general thoughts on learning Spanish that may help you.

Look for more resources to Learn Spanish here. Links for tutorials, language exchanges, language communities and other resources. Also, look here for some general language resources, many of which are relevant to learning Spanish.

The Language Learning Tips page has lots of ideas on how to get the most out of your time and your methods in your efforts to learn Spanish.


Learn Spanish - Visitor Comments
So you want to learn Spanish, one of the most rich and vibrant languages of the world? Why do you want to learn Spanish? How are you going to learn? If you have already started, how is it going for you? Share your experience with Spanish here and help others who want to learn it too.
What Other Visitors Have Said About Spanish
Click below to see contributions from other visitors to this page...